One of the coolest features about iMobiTrax – is that Bill never stops working to improve our ad tracking platform. One of the coolest new features of iMobiTrax Version 3.3 is you can now redirect your incoming traffic (web & mobile) based on your top performing banners.
Here's how…
Let's say you were running 4 banners on mMedia. (Here's an mMedia Campaign Setup Tutorial). You had 2 banners out-performing all four. However, you cannot cut the bad banners in real-time, or maybe your Rep isn't available. Something happens and you need to redirect traffic right now in that campaign. You have two banners taking shits and two that are exploding. We need to make adjustment, in real-time, right now.
That's one of the reasons we built iMobiTrax. No matter whom we buy traffic from, it can be dissected at the point of click and segmented to wherever we want that traffic to go.
Ok, so in iMobiTrax, you simply create a rule now based on your ad token. Remember when using tokens in iMobiTrax:
Source or Custom Tokens
Select "Traffic Source" if you want to use the tokens that you created when you set up the traffic source you will be using. Obviously, you must select the applicable traffic source from the drop down menu above.
Select "Custom Tokens" if you want to create/use your own tokens. These can be anything you want, including the tokens provided by a traffic source.
So it simply works one or two ways.
1. If your traffic source provides you with an ad, creative, banner token – GREAT! Simply add it into your iMobiTrax setup. You can see my example of a Leadbolt setup below, the AD IDindicates I'm tracking my ads, 1 at a time. In this screenshot, I've simply added custom tokens to Leadbolt because I know what I want to track from them. They actually offer more click tokens than this.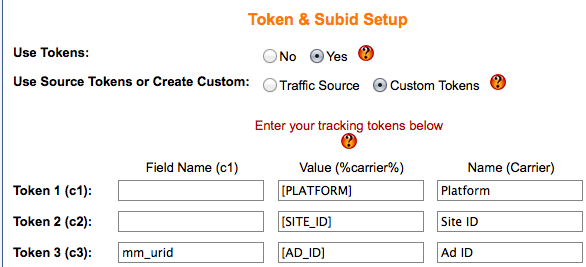 2. Again, if you have to use custom tokens, (because traffic sources may not have this banner tracking parameter) then you can do something like I do. I create a custom token labeled "ad":

So now when I go into my redirect rules, I can select to redirect incoming mobile clicks and direct them to where-ever I need them to go. In this instance, I would be setting up a redirect rule based on my token ID Ad Id from Leadbolt: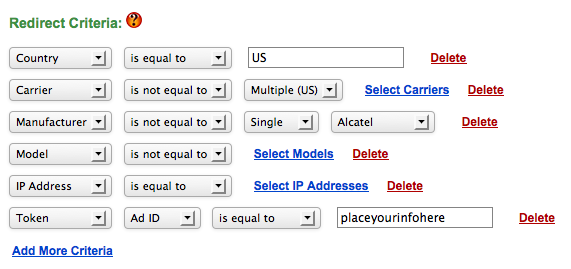 Tokens – Enter the token value you want to redirect on. Multiple values can be used (separated by commas.) Pretty cool huh? Big time-saver! Hope it helps.