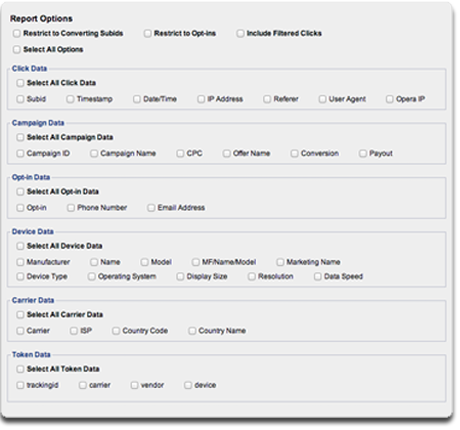 40+ Granular Tracking Metrics
Hand-Built By Media Buyers For Media Buyers
The more data you can track, collect, analyze & optimize more efficiently…The more you can focus on scaling campaigns. iMobiTrax makes it private, simple & secure, while providing consistent updates & new features.

Track Clicks, Timestamps, Conversions, LP's & Path Times
Track Devices, Models, Names, OS, Manufacturers, & More
Collect Optins, Email Addresses, Phone Numbers, Zipcodes…
Track Countries, Codes, Carriers, ISP's+More & Redirect Them!
Track & Optimize Sites, Placements, Creatives, Ads & More
Custom Reporting For Campaigns, Landing Pages & Offer Stats
iMobiTrax requires a Dedicated Server, at least 4GB RAM, PHP Version 5.3+, ionCube Loader, MYSQL, PDO Extension, mCrypt Libraries with Blowfish Cypher, mbString Extension Enabled & XML Reader. Don't be a donkey & use shared hosting. That's for wussies.