Self Hosted Tracking & Analytics
Created for SMARTER marketers, like you.
Features We Love
Self Hosted
Safe, Secure
Redirect Speed Optimized
Landing Page, Direct Link, Path Split Testing
Multiple Post Click Redirection Rules
iMobiTrax Easily Handles 5,000,000+ Clicks a Month
We can vouch for iMobiTrax easily being able to handle 5,000,000+ clicks per month. We've been using it for well over 5 million clicks a month and it's been rock solid. For anyone currently using Prosper202 or CPV Lab, iMobiTrax is well worth the $$$ per month.
-Marc M, ClickRight LLC
40+ Granular Tracking Metrics
Hand Built By Media Buyers For Media Buyers
The more data you can track, collect, analyze & optimize more efficiently…The more you can focus on scaling campaigns. iMobiTrax makes it private, simple & secure, while providing consistent updates & new features.
Track Clicks, Timestamps, Conversions, LP's & Path Times
Track Devices, Models, Names, OS, Manufacturers, & More
Collect Optins, Email Addresses, Phone Numbers, Zipcodes…
Track Countries, Codes, Carriers, ISP's+More & Redirect Them!
Track & Optimize Sites, Placements, Creatives, Ads & More
Custom Reporting For Campaigns, Landing Pages & Offer Stats
iMobiTrax is a self hosted application that runs on your server. This allows for maximum security and privacy of your valuable campaign data. Your server should have at least 4GB of RAM with the latest versions of PHP and mySQL.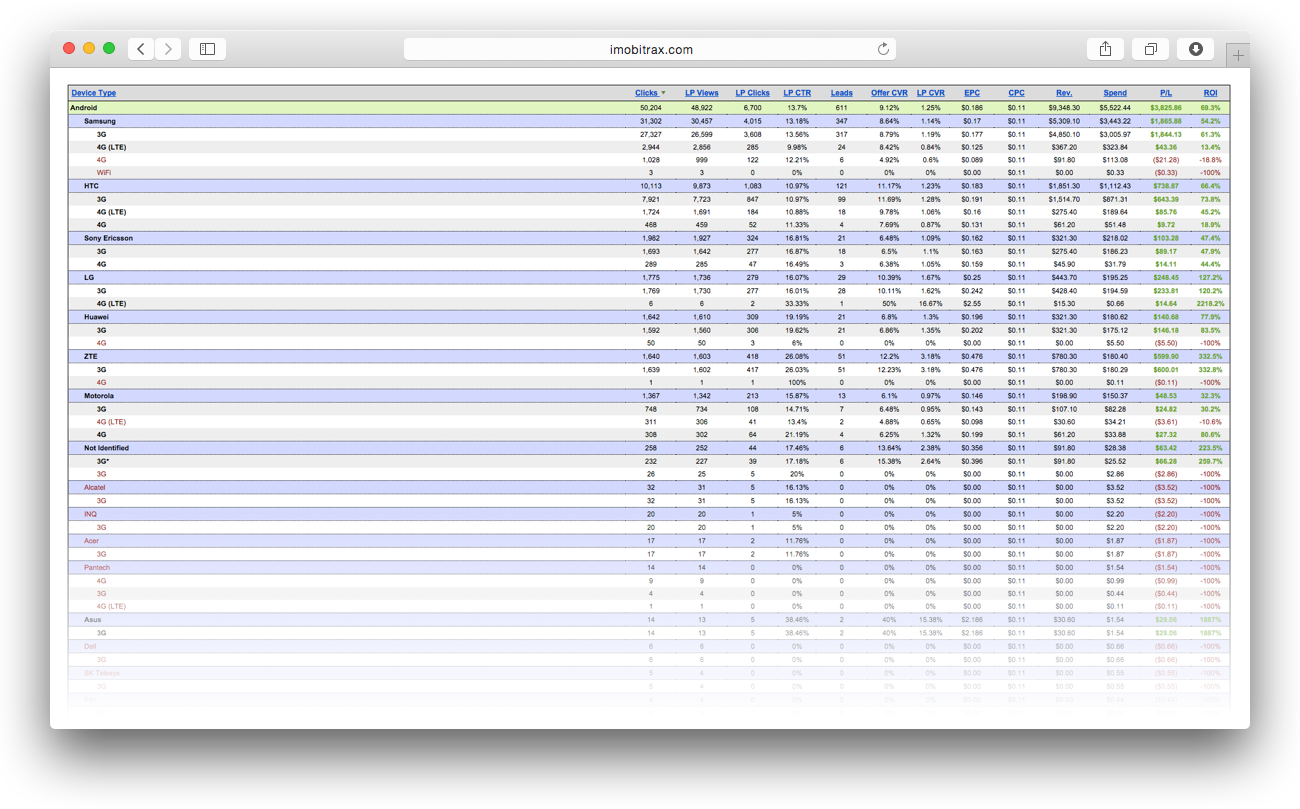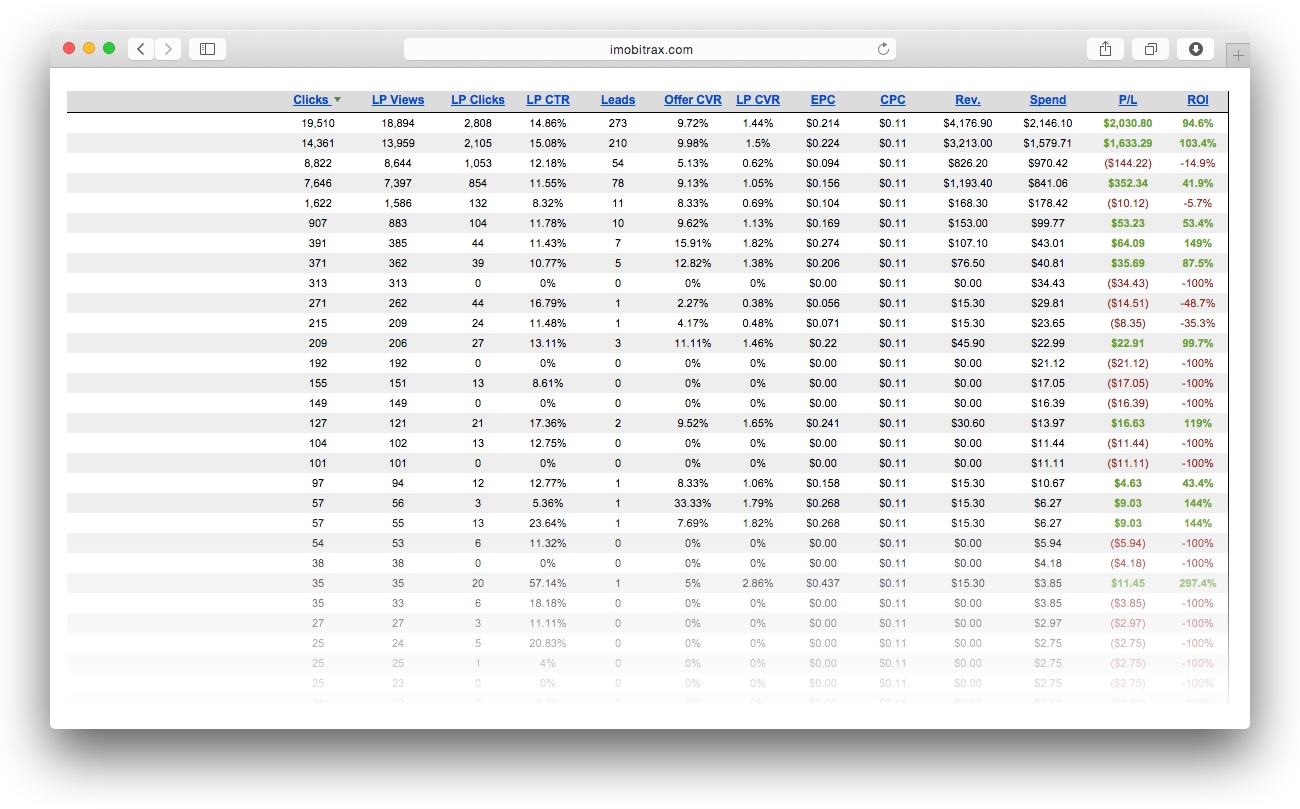 More Control, More Money
Increase ROI With iMobiTrax
With iMobiTrax you can instantly analyze your incoming traffic (clicks) from your traffic sources to determine what optimizations need to be made across your campaigns, offers, landing pages, paths and anything else you decide to create. 🙂
Decipher Mobile Data
Save Time Tracking, Analyzing & Optimizing Carriers, ISP's, Brands, OS, Devices & More
Analyze Critical KPI's
Optimize LP's & Paths Based On Views, Clicks, CTR, Leads, Offer CVR, EPC, Profit, ROI & More
Avoid Click Fraud
Monitor Bots, Fraud, Ghost Clicks, Etc…& Avoid Being Ripped Off By Ad Networks
Monetize Captured Data
Export Data You Collect From iMobiTrax & Monetize Your Users For Maximum Profit
iMobiTrax is Relied Upon By Over 5,000+ Marketers and Growing
Self Hosted, User Driven, Consistently Improved & Professionally Supported
"With iMobiTrax you can slice every detail of your traffic and optimize your campaigns extremely easy. We have tried tracking solutions before but none include the functionality iMobiTrax has."

"iMobiTrax allows you to see, in real time, exactly where your mobile traffic is coming from. After running mobile traffic with this software in place and seeing what it can do, I would NEVER run mobile traffic without it."

"iMobiTrax gives you the ability and resources to call out mobile traffic agencies that send untargeted traffic. To sum it up, iMobiTrax is setting the standard for mobile marketing advertiser tracking."

"iMobitrax has been the foundation of all of my campaigns the last few years because it allows us to recognize trends and take advantage of those trends that larger advertisers would overlook. iMobitrax has allowed me to collect more data about my visitors which in turned maximized my profits."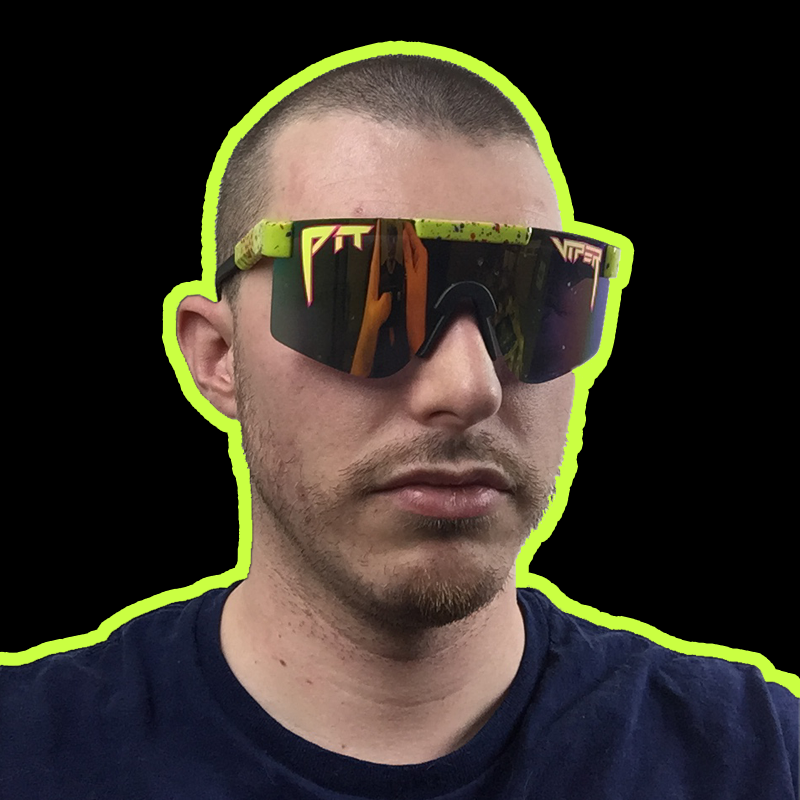 Get the Best Self-Hosted Tracking Software Today
Easy to install, be up and running in 60 minutes or less.
Bills per month, cancel anytime
Get iMobiTrax Today
1 Domain License
Unlimited Clicks
Lifetime Software Upgrades
Monthly Feature Updates
No Extra Database Fees
Support Knowledge Base
Help Desk System
$179/Month
Get it installed by us for an additional $99 your first month.
Fast, Secure Checkout. Get Tracking Today!