Mobile Affiliate Marketing is utilizing recent technological break throughs to monetize affiliate programs through the growing 'smart phone' audience. The next time you are in a public place observe the people around you. How many people do you see pecking on an iPhone or Blackberry? Go to a pub and look at the single guy sitting in the corner? Chances are he's sitting there reading Facebook or messing with some type of application. Over the last decade mobile phones have revolutionized the way we communicate. Just ten years ago who would have thought we would be talking to our parents on Facebook via our mobile phone?
This growing audience of technical 'newbies' opens up an opportunity so large for affiliate marketers as conversion rates can be through the roof!  With the demand getting stronger, smart phones are becoming more affordable and are no longer just used by businessmen. This is our time to jump on this train and make some serious cash. To begin, I want to discuss where we're going to be getting traffic from on mobile phones.
While some people browse websites using their default browser on their device, more-and-more websites are developing unique applications where their content can be accessed much quicker and even customized for mobile viewers. If you access a website such as CNN.com on your iPhone or Blackberry, you'll automatically be redirected to our 'mobile template'. This allows you much easier navigation and an overall better browsing experience since it loads a lot faster (especially on the crappy AT&T network). Advertising networks are popping up almost daily offering mobile publishers contracts to serve their ads as well as advertisers opportunity to reach a whole new audience.
Here are some companies I recommend purchasing ads from: AdMob (owned by Google), Decktrade, Google Mobile Ads, and AT&T Mobile Display Advertising. As with media buying, pay-per-click, and pay-per-view there are many other choices when purchasing advertisements on mobile devices, however these are just some I recommend.
I've personally had the best luck with AdMob. They have a ton of volume and I always yield the best conversions from their audience. They are owned by Google and I can tell a big difference in the type of creatives they'll allow through (much more strict). Here is a screen capture of an application displaying an AdMob advertisement: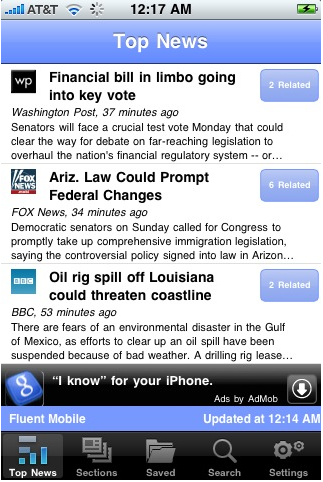 Ask your affiliate manager at any major affiliate network and they'll tell you the deals they have that are mobile optimized. There really isn't a "secret" too it, the regular HTML just has to be scaled down so it's rendered properly in a phone's browser.  I personally like to pick the offers that convert after a successful pin code submission or email submit. Walmart gift cards, ringtones, daily deals, and even IQ quizzes will work. As with anything else, AdMob is becoming stricter, but with some effort, you can still get a ton of traffic for cheap.