Mobile Multi Path Campaigns
Paths have proven to be an effective monetization method for mobile traffic. With iMobiTrax you have the ability to track your paths to see exactly what pages yield the best click through rates, where your traffic is dropping off, and how well certain pages convert. We also make it very simple to setup and implement.
Setting up a Path Campaign is almost exactly the same as setting up a campaign with a Landing Page, however it is designed for a user to go through multiple landing pages before reaching an offer. You begin by first naming the campaign, assigning it to a unique group and a traffic source, then adding in your maximum cost per click. You then have the option to pass the tokens as you have in the previous two examples. You are also able to pass custom tokens through your tracking URL which allows you to call them on your landing page with some simple PHP.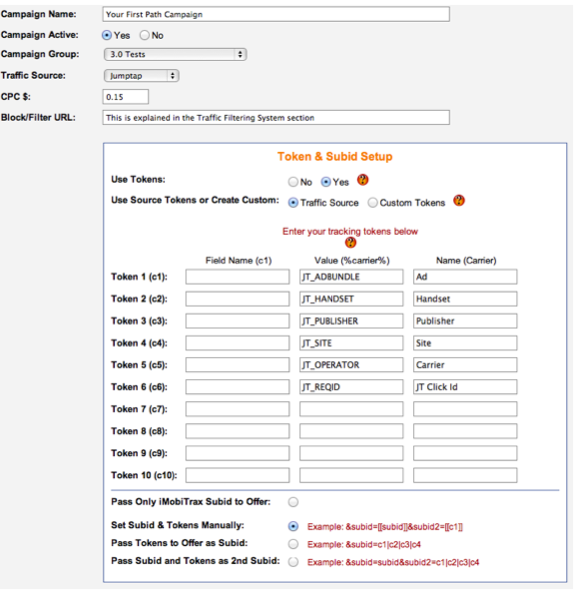 The difference with a path campaign is you have more than one landing page and sometimes more than one offer. All of this is defined after you select Path as your Campaign Type:

The next step is to setup the out-bound offer link(s) that you'll be using on your path. By default iMobiTrax will rotate through your links based on the weight you set. However at the end of this tutorial we'll explain how to force the system to go to a particular link: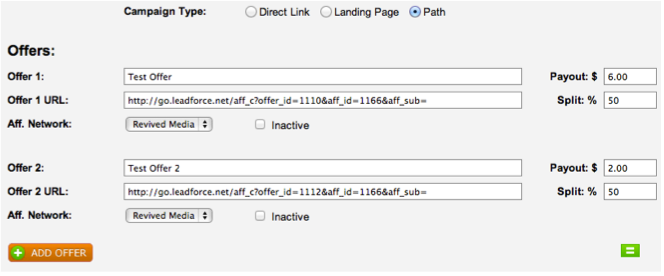 You'll then be able to setup the pages of the path. You also have the ability to A/B split test unlimited number of pages to the path. Just make sure you assign the weight manually or by using the green button: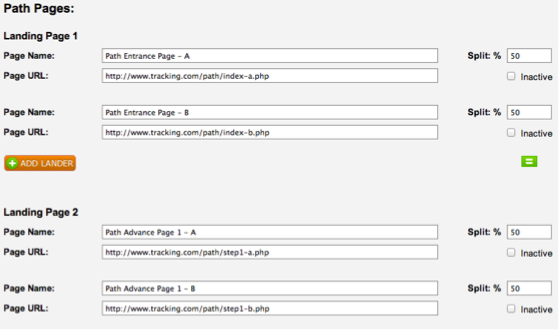 When your path campaign is creative you are almost done setting things up. The next step is to add the path include file to the top of EACH landing page in the path (extension must be .php). The code will be unique to your installation but will look something like this:

You will then need to include a link on each page to advance the visitor through the path. These links should look like this:

As with the above instructions on adding the "Advance" links through your path you will want to ensure that is completed on each one of your landing pages that you are split testing. Now if you wish to "hard select" an offer on any given landing page please remember to use the same format you would as with the regular landing pages. You should define the offer number in the PHP code. It should look something like this:

If you simply want the offers to rotate through your pages then you could simply use this code:

Once all of your path landing pages have the correct Tracking Includes (the top path code and "next" page link) you can save and upload to your web server. You are then ready to test your campaign using the test link provided in the post-creation page: