Mobile Direct Linking Campaigns
iMobiTrax offers three different options to setup for campaign tracking: Direct Link (linking straight to a merchant's page), Landing Page (using your own custom pre-sell page that goes out to a merchant), and Path (a series of different landing pages). Using our technology we automatically report important metrics such as conversion rate, EPC (earnings per click), CTR (click through rate), revenue, profit, ROI, and more. All of these options can be rotated to mix and match your traffic to find the right combination of offers/landing pages to yield a high return on investment.
Creating A Direct Link Campaign
Direct Link campaigns are fairly self-explanatory. Basically you're going to be sending your mobile traffic directly to a merchant or Affiliate Network. As long as you're able to pass a unique SUBID you're able to track. Here is an example of a link from an Affiliate Network that includes a subid variable to be passed:
Ie: http://go.leadforce.net/aff_c?offer_id=512&aff_id=1&aff_sub=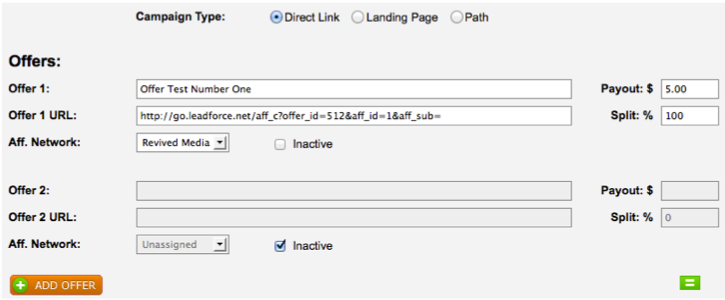 To setup a direct link campaign simply enter a unique name for the campaign (ie: Cupid.com Mobile (US)), set it to active, assign it a Campaign Group (optional), define the Traffic Source (ie: Jumptap), and set the maximum amount you will pay per click (ie: $0.10).
If you defined custom tokens when setting up your traffic source you can simply select YES under USE TOKENS. You then have the option to use them or add additional
custom tokens (for instance a static creative name). Since you are direct linking there is no need to Pass Tokens to LP (landing page).
You can then define additional items to be passed in your SUBID. By default this is set to pass the Subid to Offer and most-of-time doesn't need to be changed.
Your Campaign Type should then be selected as Direct Link. Offer 1 is simply the offer name from your Affiliate Network (ie: Cupid.com Mobile (US)). You then need to define the amount you are paid for a successful conversion (ie: $0.65). Offer 1 URL should be your unique affiliate link with the unique SUBID value appended to the end of the link. There should be no spaces following the equal sign (ie: &aff_sub=). Do no select the offer to inactive and the select the Affiliate Network you are running the campaign through. If you're going to just run one offer (and not rotate any others) assign the Split % to 100 or simply click the green button.
Adding In Offer Rotation
Each direct linked campaign can be mixed in with an unlimited amount of offers that can be rotated through your traffic so you can find the exact one that yields the highest return. Using the same steps as setting an a direct link campaign outlined above you can add more offers by clicking on the "Add Offer" button and then saving. This can be accomplished during the initial campaign setup or when you go back and edit the campaign after it has already been running. You will need to make sure you define the weight for each offer. This is the amount of traffic that each offer will see. It can be set automatically by using the green button above the campaign save button: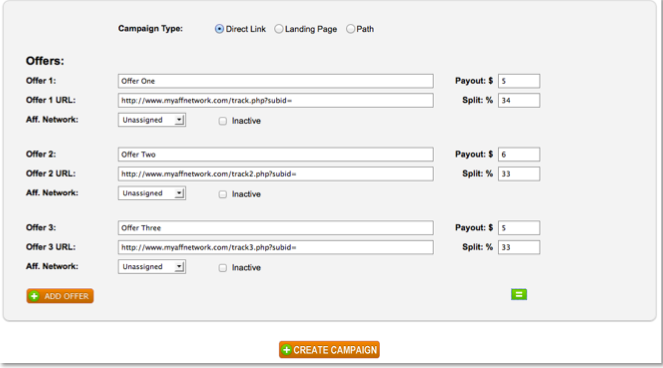 Once you click the Add Campaign button your campaign will be created and you will receive a unique URL that can be used at your traffic source: