I was actually going to hold off and turn this into a downloadable report but no sense in wasting time. Today, I'm going to point out some very obvious (to experienced Mobile Advertisers) elements in Facebook Mobile Advertising that are actually pretty disturbing. Now, this post isn't directed for negative publicity, nor am I saying that Facebook is doing this on purpose. I think by sharing this information, I can help both Facebook Mobile Advertisers and the Facebook Mobile As Serving Team create a much more profitable experience on both sides.
First things first – I'm not talking about Facebook Mobile Ads For Apps. That is an entirely different medium of Mobile Advertising on Facebook. I'm specifically talking about the Facebook Mobile Ads that appear in the Facebook Mobile News Feed. The ad units I'm talking about are the Sponsored Stories, Page Post Ads, and the Promoted Posts inside the mobile news feeds.
Update: This is for the Facebook Ads interface, not the Facebook Power Editor.

Update: To support my claim about ads being shown to desktop users and not mobile users, here's the start of a campaign. We'll do another round of follow-ups here too.

Second – Let's face it. The mobile targeting options are absolute crap. To target mobile users, you have to navigate to your broad category option your ads panel. You think by segmenting users by mobile and desktop, that would warrant the separation of such targeting options but it doesn't. I'm going to explain why in a bit, for now, here's what the mobile targeting options inside the broad category look like: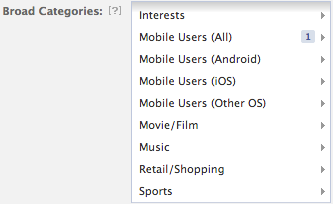 Now, let's break that down because to the "newbie" mobile advertiser, they probably won't pick up on this.
First off – There is no "Carrier/ISP" targeting. You simply take Facebook's word for it that you are targeting mobile users. Now in the US, it's not that big of a problem because there are only about 10 major mobile Carriers. However, if you target outside the US in International countries, if you cannot target by carrier this is a problem for many advertisers. They simply only want to accept mobile traffic from specific Carriers/ISP's/Operators.
Second – Facebook says that you are allowed to target people by the way they access Facebook. What the hell does that mean? To the untrained eye, you would assume you are only targeting Feature phones, Smartphones, Tablets, RIM, Windows, etc…You're assumption that you are only appearing to mobile users is wrong. You are appearing to desktop users as well. We've been digging into our IP Addresses, Referrer Data and User-Agents from the traffic we've been getting from Facebook mobile and it's terrible. I'm not the only one who has experienced this either. Alex from the MobAffBlog has literally found the same thing.
I would like to quote in Alex, because he summed what we both have found up very simple:
Simple when you target "Android User" it should really say "Users That Have Logged in on Android Devices Sometime in Past"
Assuming that 99% of mobile advertisers are simply un-educated when it comes to positive ROI in mobile advertising, Facebook is either not making a point to reveal this, or they are banking on the fact (just like most mobile ad-networks) that not enough mobile advertisers will point this out and address it.
Now let's move along into more Facebook Mobile Ads targeting options with the ability to choose all "Mobile Users" "Feature Phones" and/or Smartphone/Tablet users. Notice that smartphone and tablet users are grouped into one targeting option. This is a mistake in my opinion however, the mobile ads are appearing in the facebook news feed so viewing them from tablets, people will most likely have the facebook app installed which will make the ad units pretty much the same as a smartphone. I would still like to see that option split up.

Now let's get into their Operating System targeting options. Again, I'm going to assume here that Facebook is concentrating heavily on the US mobile ad market because we are limited to basically, Android, iOS, and other OS options such as RIM/Blackberry and Windows: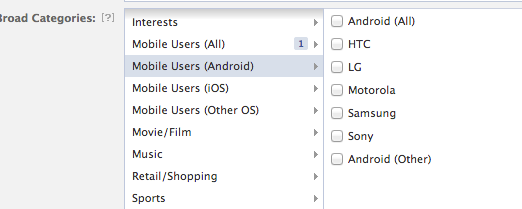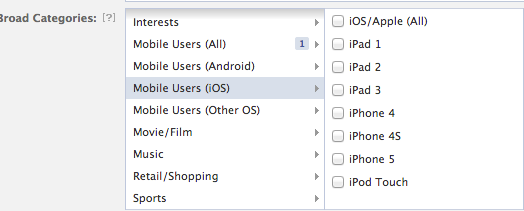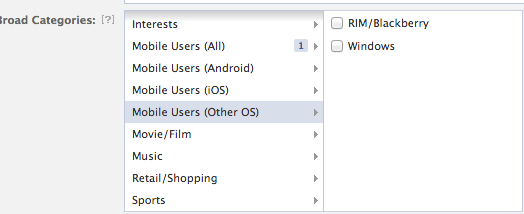 This is extremely basic and for mobile advertisers, it simply isn't enough. For branders this may work but for real mobile advertisers who are looking to generate a positive ROI from Facebook Mobile Ads, this simply won't cut it. Should you get a profitable campaign on there, praise Jesus.
Now for Manufacturer targeting, it gets even more basic. It's simple for the iOS operating System. You simply need to cover iPads (1,2,3 currently), iphones (Facebook allows iPhone 4, 4S and the iPhone 5) and the iPod Touch. However, for Android there are a lot more manufacturers selling Android devices. Facebook allows some targeting into these Manufacturers. The five major Manufacturers, HTC, LG, Motorola, Samsung, Sony and all other Androids are group into "Android Other."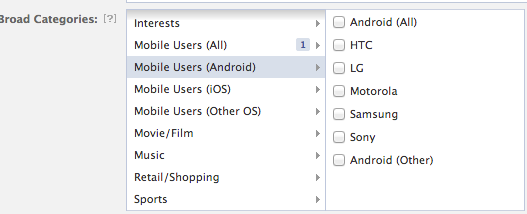 Now here's the biggest challenge in mobile advertising for Facebook that affects mobile advertisers.
1. No Carrier/ISP/Operator Targeting – Let's say you have a mobile advertiser from Mexico with an offer that includes Mobile VAS (value added services) but they only accept Mexico's largest Mobile Carrier (Telcel). Now let's say Facebook has users on their mobile devices uses the Carrier Services of Mexico's other two large Carriers (Movistar and Lusacell). This advertiser is basically going to pay CPC for Facebook Mobile Advertising and receive traffic that they cannot monetize. See the big old problem here? That right there is a large reason for Facebook not exploding their International Mobile Ad Market. (Take Note Facebook)
2. No Specific Handset/Tablet Model – Mobile advertising always comes down to the exact device. I've said this time and time again. Mobile ad units can and do appear differently on each device with varying screen sizes and screen resolutions. The "X" factor here is that Facebook Mobile Ads appear in the mobile news feed which compress down to each device screen accordingly. However, for Facebook to branch out into other mobile ad units, they are going to have to address device specific targeting options.
3. No Incoming Click Metrics – One of the biggest challenges in Mobile Advertising is tracking incoming mobile traffic clicks. This is one of the biggest reasons why we built iMobiTrax. It allows us to report back the incoming clicks from mobile devices and shows us the IP Address, GEO/Country, Referrers, Timestamps, User-Agents, Manufacturers, Operating Systems, Carriers/ISP and exact device models so that we can make real-time edits on our mobile ad campaigns on the fly. Facebook simply doesn't offer click tokens/macros/parameters for mobile advertisers. If you aren't using a mobile tracking platform such as iMobiTrax, you're going to have an extremely difficult time optimizing your mobile ads for positive ROI. With iMobiTrax, we can see this incoming traffic from Facebook and create Traffic Blocking and Click Filtering rules to direct the traffic accordingly. With our new redirect rules, we can simply drill down to the exact device level and direct traffic by screen size and resolution as well.
That's one of the granular tracking metrics in mobile advertising that not many advertisers realize. Just because you can target mobile traffic based off phone/tablet type, along with operating system and specific manufacturer, you still have to deal with the fact that inside that conglomerate of targeting metrics lies the real truth. Inside specific device types, OS and Manufacturers lies a bundle of phones with screen sizes and resolutions that will display your ad units, landing pages, product pages and whatever you're advertising in different sizes and resolutions. While the mobile ad units only appear in the mobile news feed, Facebook is not even scraping the surface of what's possible with their mobile advertising revenue and when they figure out all this, they are going to open themselves up for quite the payday and many advertisers will be happy as well with granular mobile targeting options on the world's largest website.