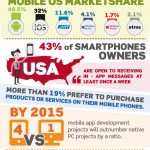 With mobile applications market growing so much and so fast, mobile advertising is taking advantage of this, since mobile ads are very well received and requested by consumers to keep in touch with their preferred brands.
Not surprising, over 80% of all mobile apps developed in 2012 will be integrated with Social Network services.
Did you know: You can track your app install downloads with iMobiTrax? Yep! With the clicks coming in, by default iMobiTrax will automatically track the IP's/GEO's, Referrers, Carriers/ISP, Manufacturers, Operating Systems, Handsets/Tablets, right down to the Device Model.
According to some data from Hunt Mobile Ads, 43% of smartphone owners are open to receiving in-app messages at least once a week. This is music to our mobile advertising ears! Check out the visual below from Hunt Mobile Ads and dissect the data points for some sweet mobile app research goodness.