It's one thing for us to sit here and develop software but it's a completely different thing to sit here and develop on what we need. That's what fuels our core here at iMobiTrax. We develop software based on the optimization metrics that we need for our own marketing campaigns. One campaign type that I personally use a lot of is called a Path. This is a campaign that has a landing page but then sends the traffic through multiple pages (a conversion funnel) before reaching the conversion point (offer). There are several advantages to optimize using a path and most-of-the-time returns are much higher. Here is a case study conducted in late May using a Path Campaign + iMobiTrax to optimize: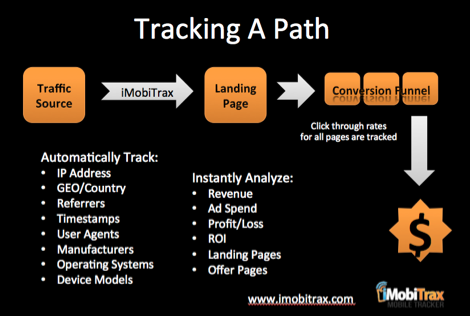 Campaign Type: Path
Total Revenue: $11,320
Total Spend: $7,059
Profit: $4,260
ROI: 60%
Campaign Flight: May 24 – May 31, 2013
For this particular campaign I was buying display mobile web traffic and then sending traffic through my iMobiTrax link to my landing page. Initially I started our with an A/B test for landers but quickly found the winner and isolated it. I then optimized several points through my conversion funnel to ensure I was increasing areas where visitors dropped off. Finally, I conducted multiple split tests to find the exact offer that yields the most ROI. This is what I call my:
3 Step Optimization Process:
1. Landing Page – Using iMobiTrax you can split test an unlimited number of landing pages at once to determine the one that yields the highest click through and conversion rate.
2. Conversion Funnel – As with your initial landing page you can split test multiple conversion funnel pages to see where your traffic is dropping off and analyze accordingly.
3. Offer – Many times there are a number of related offers for your path. Using iMobiTrax you can quickly discover the one that yields the best conversion rate and ROI.
iMobiTrax Provides Data In Real Time:
Campaign Overview:
- The first metric before any optimization can occur is the current progress of the campaign.
- Immediately iMobiTrax displays important information about the performance of your campaign.
Offer Overview:
- iMobiTrax allows the ability to split test unlimited offers across multiple conversion funnel pages.
- Quickly identify the offers that are performing the best.
Path Overview:
- Real time data on your entire live path
- Quickly discover flaws where traffic is leaving
- Optimize efficiently
Week Parting:
- Reveal important data about what day of the week converts the best
- Optimize & Scale without digging through data
Day Parting:
- Learn the exact hour the performs the best for your campaign
- Discover important day parting information in real time
My $11,320 Mobile Case Study:
As you see iMobiTrax takes the guess work out of running a path campaign. Gone are the days of sorting through boring Excel spreadsheets as we now neatly organize this data all for you securely in your self hosted admin interface. This data can easily be sorted or generated and exported into any report necessary for a successful campaign flight. Making these on-site edits can make a world of difference in your ROI especially when you have little to no control over the traffic quality being sent from some mobile sources. Happy tracking!