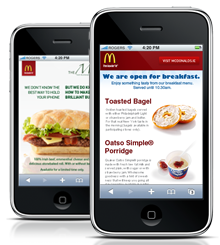 When formatting your mobile optimized landing pages you want to take every device you're targeting into consideration.  While post-click tracking is an effective way to optimize your campaign, begin before you spend money, target devices that you know will display your landing page/site correctly.  If a user is unable to navigate smoothly through you're site, they're going to get frustrated and give up.
One example off the top of my head is using a jQuery mobile landing page on a feature phone (remember the Motorola Razor and Nokia's).  They simply don't function correctly on these phones so the traffic doesn't even have an opportunity to convert.  Use post-click tracking to refine this, but being proactive and testing your offer on devices before hand is a huge money saver.
I was talking to a mobile marketer the other day telling him to start primarily on Androids.  The advantage to mastering how one operating system will allow you to leverage your ROI by scaling out to other advertising networks that meet the same credentials.  This way no matter how your creative is displayed, when the user clicks, you are assured they know how to operate through your site flawless and potentially become a successful conversion.
Work with advertisers to ensure the back-end qualifies with your traffic.  If their page contains a lot of images or hasn't been optimized properly, its possible you could be losing traffic there as well.
In conclusion, successful mobile tracking will allow you to quickly identify areas for optimization and growth.  The more prepared you can be entering any campaign, the quicker you'll see a return and be able to scale your campaign with loads of volume.