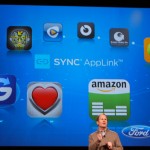 The thought of mobile advertising inside an automobile makes me a little uneasy. However, since most people (with common sense) would be operating navigation systems and other operations within the automobile (let's hope) it does raise an interested eyebrow to the thought of in-app advertisements to drivers and passengers.
I caught this article – The Next Mobile Screen For Applications? Your Car on the Smaato Blog from Matt who peaked my curiosity by saying:
There are few places that people spend more of their time than in their car (especially daily commuters), so it only makes sense that car manufacturers would begin to open up their technology to outside development. With many Americans spending 2-3 hours in their cars per day, and much of Europe being even half of that, this is an area ripe for the picking. Some early adopters including WSJ, Rhapsody, USA Today and Glympse.

As for monetization of these applications for the developers, what better a place for mobile ad monetization than in a car. Lack of ability to skip through advertisements as well as an attentive driver/passenger makes for a great ad spot.

Couple that with the unique ability to really focus advertisements to certain demographics and locations through the application information pass back, we have an opportunity for a lot of ad dollar spend to happen.
This is super-interesting considering that Ford just introduced 9 new apps for the car at CES 2013 along with their new App Developer Program for Sync AppLink. According to the CES 2013 unveiling, drivers with Ford models featuring Sync AppLink will be able to use the following 9 apps with their car's voice command and dashboard controls:
Wall Street Journal
USA Today
Kaliki
Amazon Cloud Player
Aha Radio
Rhapsody
Greater Media
Glympse
BeCouply
Now since I don't drive a Ford, I was not even aware of this technology. Apparently, these Apps are being added to the current ones already available which includes Pandora, Stitcher, NPR, and Scout Navigation.
This should be pretty interesting to keep your eyes on if you're an App Developer. Ford announced a new program to make it easier for developers to integrate their apps with Sync AppLink. At the Ford Developer Program Web site, developers will be able to download the AppLink SDK, letting them engineer compatibility into their apps. The Web site will also offer forums and help from Ford engineers to integrate apps.
This opens up ideas for a plethora of possibilities for mobile monetization and advertising don't you think?