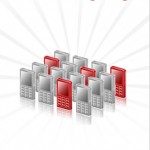 Using these groups you might be able to improve your ability to segment and target your messages to your target market. In most cases, you will be able to identify some or all these groups within your target audience, but if you don't feel that any of these psychographic groups are representative, you might need to conduct your own research to determine what motivates your target market's decisions.
Let's discuss the 5 groups:
Up-To-Date – These people are typically driven to stay current with news, weather and events at all times. They like to be informed, and others look to them for information. They use their mobile phone as a resource to keep them connected with real-time information about the world around them.
Social And Curious – These people are sometimes described as connectors because they enjoy bringing others together, networking, and planning events and outings. They use their mobile phones to keep up with their friends lives and to stay connected to the people they care about.
Busy And Productive – This group of people is very concerned with all information related to their personal efficiency and their ability to cope with a busy schedule. They use mobile phones because they are more portable, accessible, or convenient than using traditional computers. They are interested in anything that can help them manage their multiple priorities and meet the demands of their busy day.

Latest And Greatest – These people want to be the first to try something, even if there is no guarantee that they'll be satisfied with it. They always want to use the newest technologies and applications, and to be a part of the newest social networks and communities. Friends look to them for reviews and recommendations of new technologies.
Just The Basics – This group of people are not really interested in the phone, except for the fact that it makes their life easier. They are not impressed by the newest technology or the marketing appeals of most applications. They aren't the early adopters and they look to reviews and recommendations to find the tools and applications that they want to use on their mobile phones.