It's good to finally see a mobile advertising partner finally start working towards a solution that has been plaguing mobile advertising and of course, it's Google.
How many times have you accidentally clicked on a mobile display ad, when you meant to hit the adjacent content on that tiny phone screen? More importantly, how many of your pay-per-click ads have been clicked on accidentally? Ads on smartphones are effective, but many mobile users have at some point clicked on an ad by accident, which ultimately is a bad experience for the user, the publisher, and the advertiser who pays for clicks that may not be valuable.
Well no shit. We've only been saying that for a decade. Hence, we brought our iMobiTrax Mobile Tracking Solution to the world to help advertisers, agencies, brands and affiliates to have leverage in this enormously fragment but ultra-lucrative sector of advertising. I for one am quite happy to see this change even though it's likely to lower the CTR you will be getting a higher quality clicker.
Google Mobile Ads is now introducing confirmed clicks into all in-app image ad banners on smartphones, which reduces accidental clicks by prompting the user to confirm that they intended to click on the ad. According to Google, they find that most accidental clicks on in-app image ads happen at the outer edge of the ad unit, likely when you're trying to click or scroll to nearby content. Now if you click on the outer border of the ad, they'll prompt you to verify that you actually meant to click on the ad to learn more. It looks like this: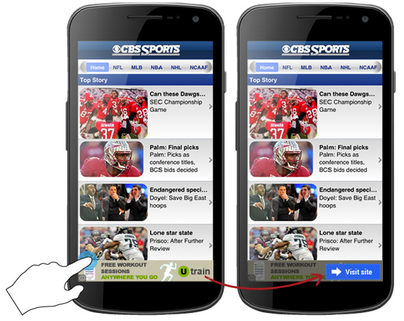 This builds on their previous efforts with confirmed clicks for text ad banners on smartphones, which Google introduced a few years ago. In the text ad format, tapping on the blue arrow button takes you to the advertiser's ad destination, whereas tapping anywhere else in the ad prompts you to confirm your click.
By expanding confirmed clicks to in-app image ad banners, Google is now making this improved user experience consistent across the vast majority of the ads that they serve in mobile apps. In their initial tests, theye found that confirmed clicks notably improve mobile conversion rates, with a slight decrease in clickthrough rate as accidental clicks are avoided.