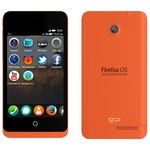 Let's say hello to the upcoming Firefox Operating System Smartphones – Keon and Peak! Mozilla is rolling out preview phones running its forthcoming Firefox mobile operating system, enabling developers to test drive the HTML5-based OS prior to its commercial rollout. The developer phones, dubbed the Keon and Peak, were built in collaboration with device maker Geeksphone and operator partner Telefónica.
Keon is a low-range hardware option running a 1-GHz Qualcomm Snapdragon processor with a 3.5-inch screen, a 1580 mAh battery and a 3-megapixel camera. If that sounds basically like an iPhone 3G, well, it's really close to one from a hardware perspective.
Peak is slightly more powerful. It runs a 1.2 GHz Snapdragon processor with a 4.3-inch screen, 8-MP back and 2-MP front camera with a 1800 mAh battery.
Mozilla's plan for Firefox OS is to target emerging markets that are not already saturated with smartphones. Hence, do not expect Keon or Peak (or their equivalents when official consumer devices become ready likely later this year) to have a major market presence in the United States.
If you're a developer interested in web technologies and mobile, now is the time to try out Firefox OS. You can create an app for Firefox OS by making some small changes to your existing website. You can try out Firefox OS and your app (if you created one) in several different ways:
Ok, here are some pics so far of the Keon and Peak: