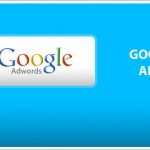 Warning: If you have advertised or are thinking about advertising on Google Adwords with their mobile targeting (they call it Google Mobile Ads as a huge Branding ploy) then you are probably should pay REAL close attention to this post.
First off, I'm sort of baffled that with all the money, all the technology and all the resources Google has, their mobile targeting options for Adwords aren't better than what they are.
Let's look at our targeting options here, obviously we're excluding desktops and laptops: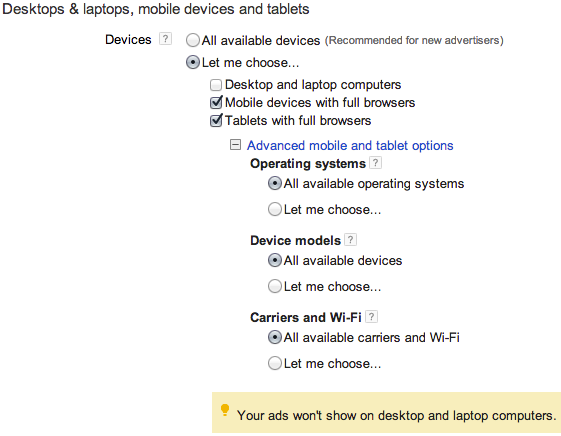 For this post, I'm just going to target mobile devices with full browsers (which in itself is EXTREMELY vague mobile ads targeting) I'll show you why in below. I'm also going to choose my own Operating Systems, Device Models and Carriers: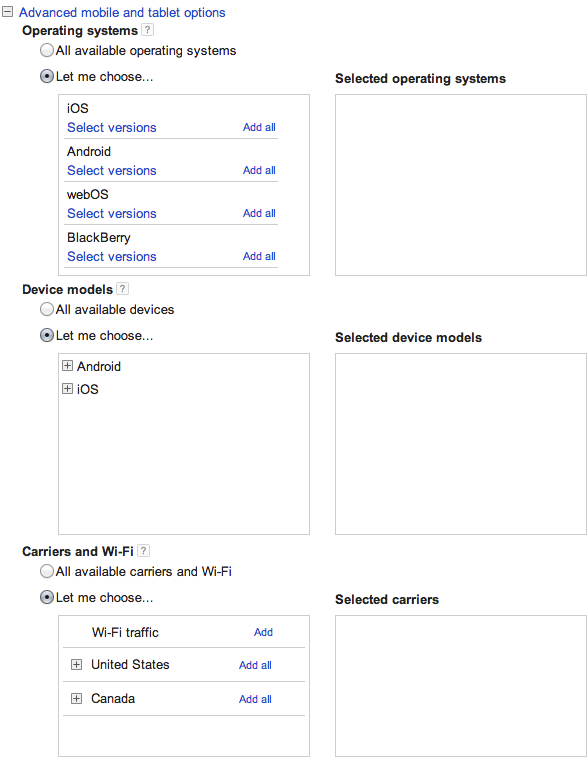 Now let's blow holes in the Big G's horrible mobile targeting options:
Operating Systems – You have the option to target:
iOS – 2.0 – 6.0 You can adjust to pick out specific iOS  here accordingly or select all
Android OS – 0.5 – 6.1 You can adjust to pick out specific Android operating systems or select all
webOS – 1.0  – 3.0 – You can adjust to pick out specific webOS or select all
Blackberry – 6.0 – 7.0 You can adjust to pick out both of those or select both
Now, that's not too bad if you think like I do. Google is banking on the huge adoption of the smartphone thus targeting feature phone users is a waste of time, or they simply don't care, or they are working on it. Outside of the US, feature phones still rule a lot of other countries. However, with the rapid growth and adoption of smartphones and the fact that Google just implemented OS Targeting nearly one year ago to the day, I'm betting on they simply don't offer Feature phone targeting because of the current growth. Here's a visual to back up my thinking and this data is just from the last 30 days: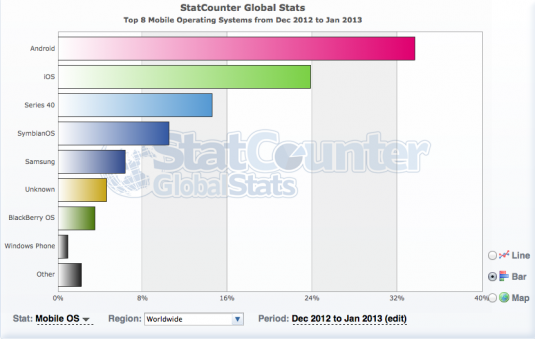 Now, I already explained what the available Operating System targeting options are, so here's a little bitty that might blow your mind. Those are the only Mobile Operating Systems you can target down to the country level (Every Country) and worldwide. That's a ton of mobile traffic targeting they are missing out on.
Device Models – Yes, as I've already explained what Operating Systems are available for targeting in Google Mobile Ads, that eliminated the ability to target all Feature Phones or specific Feature Phones down to the exact device level. Like I said, as a Mobile CPA Network Owner and Mobile Tracking Solutions owner, we know that outside the US, the world has a ton of Feature Phone users. Yes, smartphones are rapidly being adopted, but there's millions upon millions of feature phone users out there. There are also a still a ton of International advertisers only looking for Feature Phone only customers and leads.
On top of that, their device level targeting is absolutely terrible. I mean seriously. Let's do an example here and choose all of the Android Operating System and see what how many specific devices we can target but first, note that they really don't make it a big point to separate Manufacturers of specific mobile devices into an easy category. It's actually inside the Device model targeting option. This is fine for experienced mobile advertisers on the Adwords platform but I've had literally hundreds of questions about this. Coming back to all devices available to target in the Android OS options, I come up with 23 Total Manufacturers.
However, when I drill down to the Manufacturer level and want to target specific devices I can choose what Manufacturer + Device Model by selecting "Add All" or sorting the Manufacturers out  one by one and targeting the specific handsets one by one. It's a pain in the ass to setup new campaigns to test wide and drill down. In Google's case, we've been capturing top-converting handsets and then porting those targeting options over to Adwords Mobile. (Just a tip if you want to save time!)
Carriers/Wi-Fi Targeting – Pretty simple and straight forward but I'm going to point out a few things here anyway. First off, we don't run Wi-Fi traffic on Adwords Mobile. It simply has not and most likely will not perform well for our Advertisers, so you're on your own. The Carrier level targeting is pretty straight forward but you should be aware of this handy visual I found that shows which countries have Carrier-level targeting. I was actually trying to set this up on a country that didn't allow Carrier-targeting (HA!) and kept getting pissed off that no Carrier was showing up in my targeting options. So here's the countries you can target carriers by currently (This will probably change)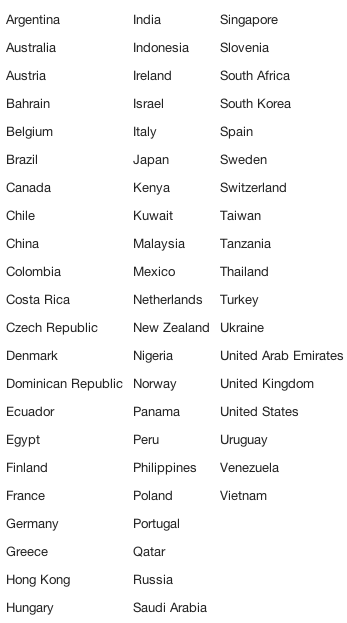 Now to be straight up here, I've already gone through most of these countries and Google seems to have all the major Carriers per country. They don't have all the Carriers for all the countries but the mobile landscape is so fragmented, who can blame them? There is still an enormous amount of Carrier specific traffic in plenty of countries to keep you busy. The cool thing about Carrier targeting is that you don't have to sort as many combinations of Country to Carrier as you do Manufacturer to Device Model. Simply because there are as many Carriers in the world:

So all in all, I know there is a lot of traffic on Google Mobile Ads but if it wasn't for iMobiTrax, we would be up shit-creek. We have the ability to automatically track all of our incoming Google mobile traffic by:
IP Addresses
Referrers
GEO/Country
Timestamps
User-Agents
Manufacturers
Operating Systems
Carriers/ISP
Device Models
This has been our life-saver in running Google Mobile Ads because with these options in our mobile tracker, we've been able to have the ability to make real-time edits and campaign changes on our end for on-the-fly optimization. We've also built in a Traffic Blocking and Click Filtering system that allows us to block Google IP's (ha – mobile cloaking) and send their traffic to where we need to. That's really the secret dealing with any mobile ad network. The mobile space is so fragmented and everyone is using different targeting technology so we had to build our own to monitor the traffic they sent us. Once we found out a lot of the traffic wasn't what we targeted, we were forced to build in the solution ourselves to appropriate the incoming traffic where we need to.
In iMobiTrax Version 3.0, we will be releasing our "Next Level Tracking" features will allow you to see the extended data on the traffic being sent to you from mobile ad networks such as:
Device Name
Device Type
Display Size
Screen Resolution
Data Speed
We will also be introducing our post-click rules that will allow you to direct your mobile traffic (Carrier and Wi-Fi) traffic based on:
Carrier
Country Type
Phone Type
Manufacturer
Model
So in short, we are now able to make real-time changes on the fly on all incoming mobile traffic from every mobile ad network in the world and we will soon be going live with a way for you to start monetizing that abundant Wi-Fi traffic from around the world!