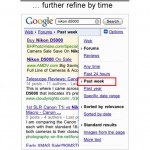 As you become more knowledgeable about using mobile paid search to drive customers to your business, you'll get a sense of what works and what doesn't. The results of your ad-writing efforts will be, literally, staring you in the face each when you check your numbers. To improve your chances that you like what you see, follow these tips, so they can give you a head start on what works and what doesn't in the mobile search industry:
1. Writing Headlines that focus on your product, not your company
A common mistake many people make when writing their first paid search ad focus is to focus on their company instead of the product or service they're promoting. Remember, people aren't buying your company, they're buying your product or service. And preferably, they're buying what you're selling at some sort of discount. So be sure to focus the ad on your product or your special, not on your company.
2. Describes Benefits in the body copy – Your ad should help people understand why your product or service is exactly what they're looking for. Focus on the specific benefits they'll gain by buying your product or service, don't use generic too general terms. Good: Same-Day Deliver Bad:Beautiful Roses.
3. Always include a call to action – Research shows that ads perform better when a specific CTA is featured prominently in the copy. And in your call to action, be sure to impose a sense of urgency, for example you'll get better results when you give people a deadline. Good: Click now for discount. Not so good: In 25 business years.
4. Make sure the ad links to a landing page, not your home page – To continue with the florist example, the objective would be to ensure that the person who clicked on your ad landed on a page that was selling Valentine's Day flowers at a discount, Driving people through a generic home page is a waste of money. Good: a promotion-specific url. Not good: generic homepage URL.
5. Include keywords in your ad – According to Google, the best performing ads are those which keywords are used in the headlines. For instance, if you're running an ad that has "Valentine's Day discounts" as a keyword phrase, you'll want to also feature that phrase in the headline of your paid search ad. That way, the consumer knows the ad specifically matches what he or she searched for. Good: Using keywords in your headline. Not Good – not using keywords in your headline.