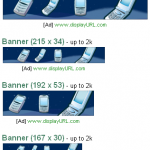 You can buy mobile display ads in a variety of ways: CPM (cost-per-thousand impressions), CPC (cost-per-click) or CPA (cost-per-acquisition). Let's have a look at which type of mobile display ad might work best for you:
CPM – When you buy on a CPM basis, you're basically buying a guaranteed number of impressions. By "Impressions" I'm referring to the number of times your ad is displayed to an individual. For example, if you're buying ads on CNN.com and paying a $3 CPM, then you're paying $3 for every 1,000 people who see your ad. Buying on a CPM Basis is good if you're interested in creating brand awareness for your product or service. It's less effective if you're interested in driving people to a mobile site where they could buy something like a book, a song or an event ticket. For that you would probably want to use CPC or CPA.
CPC – Buying on a cost-per-click basis is the way to go if you wanted to pay like Google/Bing. In other words, much like Google, when you run an ad on there you agree to pay the company say 25 cents for every person who clicks through on your ad. It might take 100 people to click through on your ad to make a sale, but if it costs you $25 to sell a product for $250 then it's a winner. Interestingly, CPC is also a good idea if you aren't expecting a lot of click-throughs on your ad. Why would you want to run a CPC ad that doesn't get a lot of click-throughs? Because you're still getting the brand imagery associated with your ad. In other words, tens of thousands of people are seeing your brand name on the ad, and assuming they don't click through, you don't have to pay. Sounds crazy, but it's true.
CPA – Cost-per-acquisition (aka cost-per-engagement or cost-per-download) ensures that your mobile marketing campaign will deliver the exact action you're seeking. You only pay when someone actually buys your product or completes the required action. Now, before you jump off and run to find a CPA deal, understand that there's more to it than meets the eye. Companies that will run a CPA Program for you will often charge set-up costs, which run into the tens of thousands of dollars. Nothing is free as they say.