If there is one thing we know about buying nearly $8 Million dollars in mobile advertising over the last twelve months, it's this:
Mobile Ad Network Click Tokens Are A Waste Of Freaking Time
I mean seriously, if you're a newbie/greenhorn who can't afford accurate mobile tracking then I understand, every mobile marketer has to start somewhere. I know when we first started out with Prosper 202 and CPVLab it was a freaking nightmare gather click tokens and setting them up. That's one of the main reasons why we set out to build our own mobile tracker. Any serious mobile marketer who buys over 7-figures a month in mobile ads isn't using those options. If they are, I have to commend you but I simply wouldn't expect there are any.
Over the last year, we analyzed over 100+ Mobile Ad Networks, Mobile App Exchanges and even working directly with mobile website owners on accurately identifying their incoming mobile traffic. We also spent (like I said above) a size-able mobile media budget as well as handle multiple 7-figure budgets for mobile advertisers through our Mobile CPA Network – Revived Media.
First off, mobile ad network click tokens are dismal – at best. If you're taking a mobile traffic source's "word for it" then you're simply an idiot or just aren't spending enough to realize how bad you're getting screwed over. For that reason alone, the Capt just finished programming in some finishing touches for iMobiTrax 3.0 which will launch on Monday that might interest you.
Now, with iMobiTrax, you can use mobile ad click tokens if you like but you simply don't need to. It's a complete waste of time. Here are 16 tracking metrics that iMobiTrax automatically tracks from your incoming clicks. It doesn't matter which mobile ad network or even mobile traffic source for that matter. Here's a quick snapshot and then a brief explanation: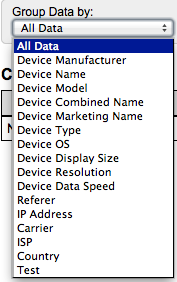 Here are the 16 automatic tracking metrics iMobiTrax records and reports back to you:
Device Manufacturers - Manufacturers of the mobile devices such as Samsung, LG, HTC etc…
Device Names - The exact name of the phone/tablet
Device Models - The exact model number of the phone/tablet
Device Combined Name – The exact name/model combination of the phone/tablet
Device Marketing Name – Sometimes the mobile device/tablet will have a different actual name compared to it's name on the market
Device Type – Feature Phone, Smartphone, Tablet (Android/iPad/Google Nexus 7) etc…
Device OS (Operating System)
Device Display Size – You should know, mobile ROI always comes down to the device. Here's the simple way to explain that. Let's say you're targeting a certain Carrier, Manufacturer and OS. Inside that combination could be a bundle of say 20 phones. Do you think all 20 of those devices have the same display size? Nope.
Device Resolution – Same as above. Different phones have different screen resolutions, now you will be able to see which ones.
Device Data Speed – Data Speeds differ all over the world. Now see if the phones you're making ROI from are on 2G, 3G, 4G etc…
Referrer – Simple mobile display website referring urls (I use this to purchase mobile traffic directly and cut out the networks)
IP Address
Carrier/Operator – Depending on what country you run ads in, this will be either named Carrier/Operator
ISP - (Internet Service Provider)
Country
Test (Customize Token Options)- This is another reporting metric that you can utilize for custom tokens. Let's say you are capturing names, emails, phone numbers, zip codes etc through your custom token options which I'm show an example of below: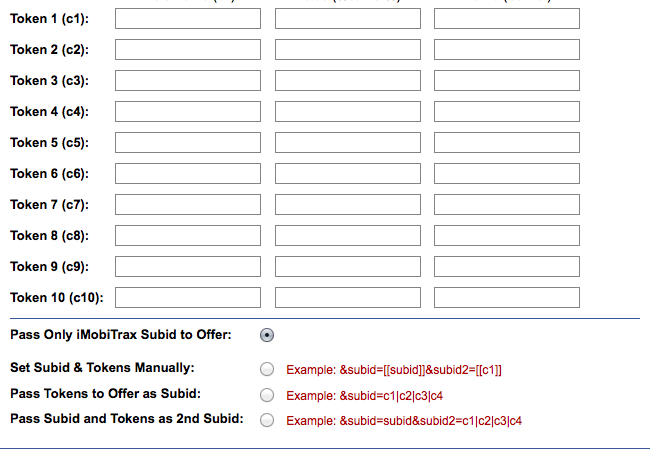 Now if you had your campaign link setup for C1-C10 values and were capturing names, emails, phone numbers and zip codes, ad creatives, states etc..(Whatever you want!) then iMobiTrax will automatically display that in your reporting. We actually use iMobiTrax for all of our web-campaigns too because we simply insert the Google and Bing (keyword) tokens and can track all the same.
So there you have it. If you are using Mobile Ad Network tokens, you're already at a time-losing disadvantage compared to the 700+ mobile media buyers and Agencies using iMobiTrax to track all of their mobile advertising campaigns. Are you tracking your mobile campaigns effectively and accurately? Why or why not?